Page information on f4r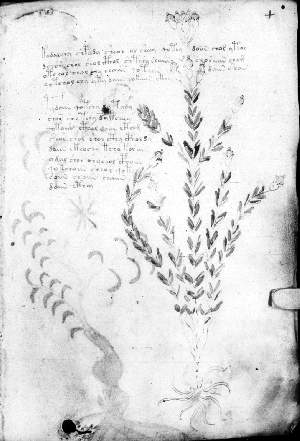 Parsable information

| | |
| --- | --- |
| Illustration type: | Herbal |
| Quire: | A |
| Page in quire: | G |
| Currier language: | A |
| Currier hand: | 1 |
| Has non-Voynich text: | no |
| Has key-like sequence: | no |
| Has extraneous writing: | no |
Descriptive comments
Last edited on 1998-10-09 00:56:39 by stolfi
Identification
Identification

| | |
| --- | --- |
| Title: | ??? |
| Page: | f4r = AG (Rene) = p007 (Stolfi) |
| Folio: | f4 |
| Panels: | f4r |
| Bifolio: | bA4 = f4+f5 |
| Quire: | A (Rene) = I (Beinecke) |
Attributes
Attributes

| | |
| --- | --- |
| Language: | A (Currier) |
| Hand: | 1 (Currier) |
| Subsets: | H (Rene), hea (Stolfi) |
| Subject: | herbal |
| Colors: | green,red (Reeds) |
| Plant: | 6 (Petersen) |
Description
One plant, mostly in the right half of the page.
Two paragraphs (with 3.8 and 8.6 lines), both above mid-page. The first is left- and right-justified, and interrupted once by the flowers; the second is left-justified and follows the plant's outline on the right.
Comments
Plant appearance: very normal, exceptionally well-drawn. The layout of leaves and flowers is very naturalistic. The "dark painter" apparently spared it.
Transcriptions
All transcriptions are given in basic (lowercase) EVA. Use the extractor to get transcriptions in another format.
Unit: "text"

Last edited on 1998-12-06 13:09:39 by stolfi


Currier:
| | |
| --- | --- |
| <f4r.P.1;C> | kodalchy. chpady. sheol. ol. sheey. qotey- {plant}doiin. chor. ytoy- |
| <f4r.P.2;C> | dchor. shol. shol. cthol. shtchy. chaiin- {plant}*s- {plant}choraiin. chom- |
| <f4r.P.3;C> | otchol. chol. chy. chaiin. qotaiin- {plant}daiin. shain- |
| <f4r.P.4;C> | qotchol. chy. yty. daiin. qokaiin. cthy= {plant} |
| <f4r.P.5;C> | pydaiin. qotchy. *tydy- {plant} |
| <f4r.P.6;C> | chor. shytchy. dy*cheey- {plant} |
| <f4r.P.7;C> | qotoiin. cthol. daiin. cthom- {plant} |
| <f4r.P.8;C> | shor. shol. shol. cthy. cpholdy- {plant} |
| <f4r.P.9;C> | daiin. ckhochy. tchy. koraiin- {plant} |
| <f4r.P.10;C> | odal. shor. shyshol. cphaiin- {plant} |
| <f4r.P.11;C> | qotchoiin. shear. qoty- {plant} |
| <f4r.P.12;C> | soiin. chaiin. chaiin- {plant} |
| <f4r.P.13;C> | daiin. cthey= {plant} |
Currier, second choice:
| | |
| --- | --- |
| <f4r.P.4;D> | qotchol. cha. yty. daiin. *okaiin. cthy= {plant} |
| <f4r.P.5;D> | pydaiin. qotchy. *tady- {plant} |
| <f4r.P.6;D> | chor. shytchy. dytchay- {plant} |
| <f4r.P.7;D> | qotaiin. cthol. daiin. cthom- {plant} |
| <f4r.P.11;D> | qotchoiin. sheor. qoty- {plant} |
First study group:
| | |
| --- | --- |
| <f4r.P.1;F> | kodalchy. chpady. sheol. ol. sheey. qotey- {plant}doiin. chor. ytoy- |
| <f4r.P.2;F> | dchor. chol. shol. cthol. shtchy. chaiin- {plant}s- {plant}choraiin. chom- |
| <f4r.P.3;F> | otchol. chol. chy. chaiin. qotaiin- {plant}daiin. shain- |
| <f4r.P.4;F> | qotchol. chy. yty. daiin. okaiin. cthy= {plant} |
| <f4r.P.5;F> | pydaiin. qotchy. dy. tydy- {plant} |
| <f4r.P.6;F> | chor. shy. tchy. dy. tcheey- {plant} |
| <f4r.P.7;F> | qotaiin. cthol. daiin. cthom- {plant} |
| <f4r.P.8;F> | chor. chol. shol. cthy. cpholdy- {plant} |
| <f4r.P.9;F> | daiin. ckhochy. tchy. koraiin- {plant} |
| <f4r.P.10;F> | odal. shor. shyshol. cphaiin- {plant} |
| <f4r.P.11;F> | qotchoiin. shear. qoty- {plant} |
| <f4r.P.12;F> | soiin. chaiin. chaiin- {plant} |
| <f4r.P.13;F> | daiin. cthey= {plant} |
Takeshi Takahashi:
| | |
| --- | --- |
| <f4r.P.1;H> | kodalchy. chpady. sheol. ol. sheey. qotey- {plant}doiin. chor. ytoy- |
| <f4r.P.2;H> | dchor. chol. shol. cthol. shtchy. chaiin- {plant}s- {plant}choraiin. chom- |
| <f4r.P.3;H> | otchol. chol. chy. chaiin. qotaiin- {plant}daiin. shain- |
| <f4r.P.4;H> | qotchol. chy. yty. daiin. okaiin. cthy= {plant} |
| <f4r.P.5;H> | pydaiin. qotchy. dy. tydy- {plant} |
| <f4r.P.6;H> | chor. shytchy. dy. tcheay- {plant} |
| <f4r.P.7;H> | qotaiin. cthol. daiin. cthom- {plant} |
| <f4r.P.8;H> | shor. shol. shol. cthy. cpholdy- {plant} |
| <f4r.P.9;H> | daiin. ckhochy. tchy. koraiin- {plant} |
| <f4r.P.10;H> | odal. shor. shyshol. cphaiin- {plant} |
| <f4r.P.11;H> | qotchoiin. sheyr. qoty- {plant} |
| <f4r.P.12;H> | soiin. chaiin. chaiin- {plant} |
| <f4r.P.13;H> | daiin. cthey= {plant} |
---