Page information on f10r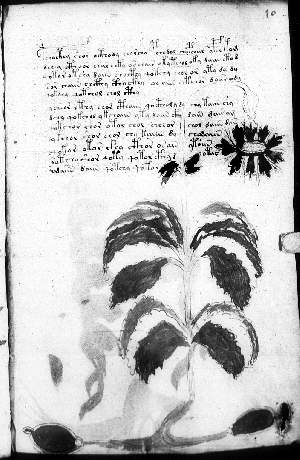 Parsable information

| | |
| --- | --- |
| Illustration type: | Herbal |
| Quire: | B |
| Page in quire: | C |
| Currier language: | A |
| Currier hand: | 1 |
| Has non-Voynich text: | no |
| Has key-like sequence: | no |
| Has extraneous writing: | no |
Descriptive comments
Last edited on 1998-10-09 01:33:27 by stolfi
Identification
Identification

| | |
| --- | --- |
| Title: | ??? |
| Page: | f10r = BC (Rene) = p019 (Stolfi) |
| Folio: | f10 |
| Panels: | f10r |
| Bifolio: | bB2 = f10+f15 |
| Quire: | B (Rene) = II (Beinecke) |
Kraus XXX (bottom)
Attributes
Attributes

| | |
| --- | --- |
| Language: | A (Currier) |
| Hand: | 1 (Currier) |
| Subsets: | H (Rene), hea (Stolfi) |
| Subject: | herbal |
| Colors: | b,green,red (Reeds) |
| Plant: | 18 (Petersen) |
Description
One plant, flush against the right and bottom edges, reaching almost to the top.
Two paragraphs (with 4.4 and 6.8 lines) at the top. They are left- and right-justified, except for the last four lines of paragraph 2, which follow the plan'ts outline on the right. Paragraph 2 is interrupted by the flower stalk.
Comments
Transcriptions
All transcriptions are given in basic (lowercase) EVA. Use the extractor to get transcriptions in another format.
Unit: "text"

Last edited on 1998-12-11 12:29:08 by stolfi


Currier:
| | |
| --- | --- |
| <f10r.P.1;C> | pchocthy. shor. octhody. chorchy. pchodol. chopchol. ypchkom- |
| <f10r.P.2;C> | dchey. cthoor. char. chty. oechair. otytchol. oky. daiin. etyd- |
| <f10r.P.3;C> | qotor. otchy. daiin. chocthy. qotchy. chol. or. yty. dy. dy- |
| <f10r.P.4;C> | sor. chaiin. chcthy. cthockhy. or. aiin. chtchor. doiir. ody- |
| <f10r.P.5;C> | qokchy. qotchol. chol. cthy= |
| <f10r.P.6;C> | ycheor. cthy. chor. cthaiin. qoctholy. dy- {plant}chy. taiin. shy- |
| <f10r.P.7;C> | dchy. qokchol. ykchaiin. yky. daiin. cth- {plant}dain. dair. am- |
| <f10r.P.8;C> | qotchor. chor. otol. chol. cholor- {plant}chol. daiin. dar- |
| <f10r.P.9;C> | oykchor. shor. chor. chy. kaiiin. dy- {plant}chodaiin- {plant} |
| <f10r.P.10;C> | oqotor. otor. cphy. cthor. osain- {plant}ytoiin- {plant} |
| <f10r.P.11;C> | rotchoshor. qoty. qotor. cthyd- {plant}otar- {plant} |
| <f10r.P.12;C> | rodaiin. daiin. qotchy. qotor= {plant} |
First study group:
| | |
| --- | --- |
| <f10r.P.1;F> | pchocthy. shor. octhody. chorchy. pchodolchopchal. yrch. kom- |
| <f10r.P.2;F> | dchey. cthoor. char. chty. os. chair. oty. tchol. oky. daiin. etyd- |
| <f10r.P.3;F> | qotor. otchy. daiin. chocthy. qotchy. chol. or. yty. dy. dy- |
| <f10r.P.4;F> | sor. chaiin. chcthy. ctho. ckhy. or. aiin. chtchor. doiir. ody- |
| <f10r.P.5;F> | qokchy. qotchol. chol. cthy= |
| <f10r.P.6;F> | ycheor. cthy. chor. cthaiin. qoctholy. dy- {plant}chy. taiin. shy- |
| <f10r.P.7;F> | dchy. qokchol. ykchaiin. yty. daiin. cth- {plant}dain. dair. am- |
| <f10r.P.8;F> | qotchor. chor. otol. chol. cholor- {plant}chol. daiin. dar- |
| <f10r.P.9;F> | oykchor. shor. chor. chy. kaiiin. dy- {plant}chodaiin- {plant} |
| <f10r.P.10;F> | oqotar. otor. cfhy. cthor. osain- {plant}ytoiin- {plant} |
| <f10r.P.11;F> | rotcho. shor. qoty. qotor. cthyd- {plant}otar- {plant} |
| <f10r.P.12;F> | odaiin. daiin. qotchy. qotor= {plant} |
Takeshi Takahashi:
| | |
| --- | --- |
| <f10r.P.1;H> | pchocthy. shor. octhody. chorchy. pchodol. chopchal. ypch. kom- |
| <f10r.P.2;H> | dchey. cthoor. char. chty. os. chair. otytchol. oky. daiin. etyd- |
| <f10r.P.3;H> | qotor. otchy. daiin. chocthy. qotchy. chol. or. yty. dy. dy- |
| <f10r.P.4;H> | sor. chaiin. chcthy. ctho. ckhy. or. aiin. chtchor. doiir. ody- |
| <f10r.P.5;H> | qokchy. qotchol. chol. cthy= |
| <f10r.P.6;H> | ycheor. cthy. chor. cthaiin. qoctholy. dy- {plant}chy. taiin. shy- |
| <f10r.P.7;H> | dchy. qokchol. ykchaiin. yty. daiin. cth- {plant}dain. dair. am- |
| <f10r.P.8;H> | qotchor. chor. otol. chol. cholor- {plant}chol. daiin. dar- |
| <f10r.P.9;H> | oykchor. shor. chor. chy. kaiiin. dy- {plant}chodaiin- {plant} |
| <f10r.P.10;H> | oqotar. otor. cfhy. cthor. osain- {plant}ytoiin- {plant} |
| <f10r.P.11;H> | rotcho. shor. qoty. qotor. cthy. d- {plant}otar- {plant} |
| <f10r.P.12;H> | rodaiin. daiin. qotchy. qotor= {plant} |
---